You are walking in Rome and you suddenly realize that it's lunch time and you start wondering what to eat. If you are on the fence about what to ask to the waiter in a typical ''osteria'' here's a list that will clear your mind!
You can start your typical roman meal with fagioli con le cotiche, beans here are slow cooked with cotiche, the pork skin.
There are many typical pasta dishes in the Roman cuisine. The classic trio carbonara, made with egg and guanciale (very similar to bacon but a bit more flavory), amatriciana with guanciale and tomato sauce, and cacio e pepe made with "pecorino romano" which is a type of cheese, and pepper. There's one more option for the ones who have a strong stomach: rigatoni with pajata, a part of calf's intestine.
If you are craving meat you can't miss trippa alla romana made with parts of the bovine's stomach, tomato sauce and roman mint. Trippa is usually eaten on Saturdays, so don't hesitate to ask it during the weekends!
Coda alla vaccinara is one of the most famous Roman dishes, made with the tail of the cow, it may sound unusual but it tastes really delicate.
Fish dishes usually consist in baccalà, you can find it fried in pastella or alla romana, which is a jewish dish made with tomatoes, olives and potatoes.
Abbacchio alla scottadito is the usual Sunday meat dish. Literally it means "burnt finger" because lamb must be eaten with your hands!
If you want to finish your meal with vegetables don't you worry, roman cuisine has a wide variety of side dishes.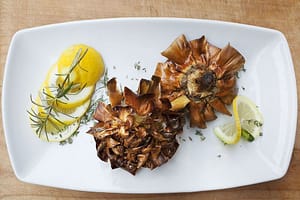 The main roman side dish is carciofo alla giudia which comes from the jewish tradition. Artichokes are deep fried and served only with salt and pepper. Another artichoke side is carciofo alla romana but here they're slow cooked in oil and wine, and seasoned with various herbs.
Puntarelle are a type of salad seasoned with anchovies, garlic and vinegar.
Street food is also very common in Rome! Beside classical pizza that you can find it everywhere, you can't miss pizza e mortadella' with a special Italian cold-cut. Then try to taste supplì the king of roman street food, which consists in fried rice with tomato sauce and with mozzarella inside, very tasty.
A common dessert is maritozzo con la panna, a special type of sweet bread with whipped cream inside. Remember: that should be more cream than bread!