Rome has a variety of monuments and museums where to go, but if you want to feel like a real roman and visit some of the unusual and hidden places in the Eternal city here's more.
Campo de' Fiori square and its market are located just in center of Rome, a few steps from Navona square. The first thing that stands out is the bronze statue of the philosopher Giordano Bruno, it's
located here because it's where he was burned alive in the 17th century with the charge of heresy. This place is very unique because here can also be found the typical Roman market which has even been, during the last centuries, set of many Italian movies. The market is opened from Monday to Saturday from 7.00 am to 14.00, and you can buy literally everything, from fruit and vegetables to fish, meat and authentic Italian handicrafts.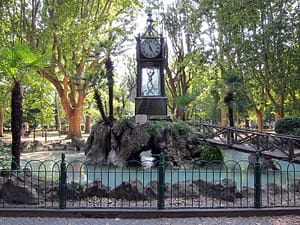 The Water clock of Pincio stands a few steps from terrace of Pincio, inside Villa Borghese Park. The park is in the very center of Rome, just around the corner of Piazza del Popolo. This watch is surrounded by greenery and it's considered a masterpiece of beauty and engineering. It works thanks to a work of water and levers. It is a bit hidden due to the presence of plants, but is located in a beautiful pond inside the park. Looking for it and finding it will be a pleasure and an opportunity to walk inside Villa Borghese.
In the heart of Trastevere you can spot the oldest Pharmacy of Rome which is still opened, Antica farmacia Santa Maria della Scala in Trastevere. It takes its name after the church and convent of Santa Maria in Trastevere, in fact the pharmacy was first created at the end of 1500 exclusively for the convent nearby. Walking among the ancient bottles of medicine and spices is like taking a dip in the past. You have to book the special visit, the cost is 5 euros for the visit only while for the guide are 10 euros and children do not pay. Here for more information https://visite.romasotterranea.it/antica-farmacia-di-santa-maria-della-scala.html.
La Casina delle Civette is a unique piece of architecture in the Nomentana district and it belongs to the museum complex of Musei di Villa Torlonia. Torlonias were one of the most important noble families of Rome in the 19th century and Casina delle Civette was the home of the late Giovanni Torlonia jr until 1938. It's the result of a series of renovations of the original annex and takes its name from the front facade in which there are stained-glass windows with owls (civette) depicted. The interior is decorated with paintings, mosaics, wrought irons that give a magical aura to the house that seems to come out of a book of fairy tales with its towers. It is open from Tuesday to Sunday from 9am to 7 pm. The ticket is 6 euros, while if you want to visit even the ancient Villa Torlonia (Casino Nobile) is 9,50 euros. Here for more information http://www.museivillatorlonia.it/informazioni_pratiche/biglietti_e_audioguide.
After a long day walking around Rome what you need is a rest and is there a better place to enjoy an authentic Italian sunset than a rooftop bar? You can't miss ''Up-Sunset Bar" on the rooftop of the department store La Rinascente in Via del Tritone, a few steps from Piazza del Popolo. The lounge bar is located in a very artistic frame, from up there you can spot a view of all the roofs of Rome, with all of its domes and suggestive colors. It may be a bit expensive but it's surely worth it!